Research
We work on balancing the conservation of marine ecosystems with human uses of the oceans. We aim to bring ecological complexity to the planning tools used to inform decision making.
We are also interested in the impacts of climate change to marine ecosystems.
Read more about our research team or our research on our blog or check out our publications.
Multiple stressors of marine ecosystems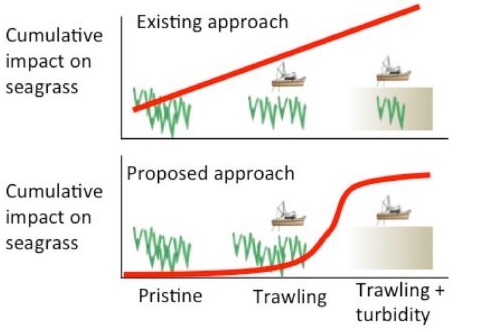 We are currently funded by the Australian Research Council (2018-2020) on a project Predicting interactive effects of multiple stressors on marine ecosystems. We aim to develop new models that can make predictions reliable enough to inform management of ecosystems, and that are effective when data are limited.
Existing approaches predict that the impacts of multiple stressors accumulate in an additive and linear way. Our proposed approach can predict that multiple stressors interact to have non-linear effects on ecosystems.
Global wetlands project

The Global Wetlands Project is a major new program of research looking at mapping the health of seagrass, mangroves and saltmarsh globally to inform on conservation actions.
Economic environmental accounting
We are currently funded by the National Environmental Science Program to develop Economic-Environmental accounts for Northern Australia and Coastal ecosystems
Project pages and tools
Visit the page of our open access projects to learn more, access code or download data.
Our research applies both mathematical models and statistical analysis.
We specialise in integrating ecologically complex models with tools for informing decision makers. We also work with large databases of the marine environment.
We use the R programming language and teach R to others. Chris' teaching resources are on this site and are open-access.
Research blog